I started OT school knowing that I wanted to do pediatrics. I set up everything to build up my resume for my first therapy job to be in pediatrics. Along the way I had a 3 month clinical rotation in hand therapy at Mayo Clinic in Scottsdale. That experience peaked my interest in hands. 13 years later when I was ready to transition out of pediatrics I returned to my interest in hand therapy and started the process of trying to switch paths. I ran into the same roadblocks so many of you have: lack of experience, no CHT certification yet (although you know that certified hand therapist salary is higher), little or no connections in the field. But after 1 year of hard work, and more than a few good breaks, I was able to get my first full-time job in hand therapy.

How to become a hand therapist and what is hand therapist salary? Getting started as a therapist in hand therapy is tough. If you are fortunate enough to have a clinical rotation in a hand therapy clinic you might get lucky get a job out of it also. If it doesn't turn into your first hand therapy job, then you at least have some direct experience in hand therapy. But for so many therapists it can be a real challenge to get your foot in the door when trying to find a first job in the specialty.

We're going to give you a few pointers to get you started on the road to a job in hand therapy. This list isn't exhaustive, and not everything may work for you, but these are the steps I used when I wanted to make the switch.
I want to take a minute and share some of the things I did in that year that helped the most. These aren't a guarantee of a job in a year, but they will make you stand out more than other candidates with better looking resumes.
Wonder how to become a certified hand therapist? Here are the major steps.
Step 1: Buy and Read the Major Texts:
It's a bit daunting to see the volume of information we need to master in hand therapy, but you need to start absorbing it. I committed to reading for 30-60 minutes every night and trying to finish a chapter or 2 every week. I slowly chipped away at a few key books and began getting comfortable with the massive amounts of information. Here are the 3 books I suggest first: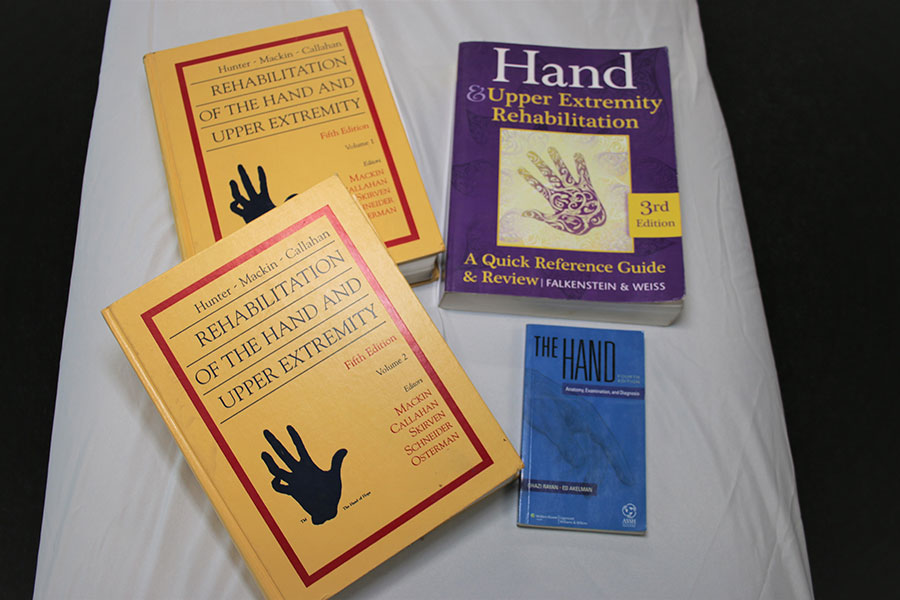 Rehab of the Hand Vol 1 & 2 by Hunter, Mackin and Callahan – These are the Primary texts for hand therapy. They can be intimidating. But if you set a realistic weekly goal to chip through them you can do it. The early chapters are the most important and the deepest as they cover anatomy. A mastery of anatomy will make everything else easier to understand.
Hand and Upper Extremity Rehabilitation by Falkenstein & Weiss – This is actually a CHT exam prep resource. But I found it a nice break from straight narrative reading. It is a series of sample exam questions and rationale for all correct and incorrect answers. It was a good way to study for the ADHD minded. It covered a lot of variety and it led me down some productive rabbit holes for additional research.
The Hand by Ghazi Rayan & Ed Akelman – This one is a small paperback primer on hand anatomy and diagnoses. It's a quick read but a great reference for future studying.
Step 2: Find a Mentor: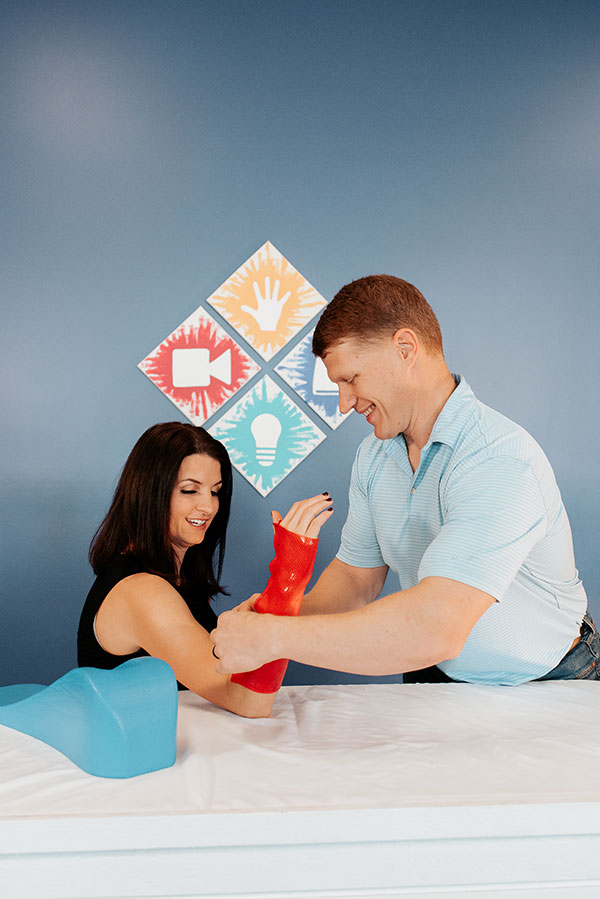 This was huge for me. I reached out to my clinical supervisor from 14 years prior and she took me under her wing. We met weekly to go over topics she assigned me to investigate. She discussed job options with me and directed me away from some common pitfalls. But you don't have to have an existing contact. Go find one. Reach out to local universities and try to find an on-staff professors that might be an option. Visit established clinics and identify anyone that might be an option. Make it a 2-way relationship, though. You can bring value in your responsiveness and receptiveness. You can also add value to the mentor if you are willing to invest in them and something important to them (research project help, volunteering, etc.). You can do a lot to make it worth their while.
Step 3: Go to Major Conferences:
In my first year I was able to go to the Indiana Hand Care Conference, the HTCC Exam Prep Course and the combined ASHT/ASSH national conference. These were invaluable. It's a bit like learning a foreign language. Getting immersed in the world and the language and having exposure to other therapists helped me get comfortable with what I needed to learn. Until then I didn't know what I didn't know. While so much went way over my head I still learned a ton about anatomy, protocols and surgeries. There is no better way to network and learn from others than at lunch breaks with other therapists from around the country.
"We all went through this process and understand how hard it can be."
Step 4: Reach Out to as Many Therapists as Possible: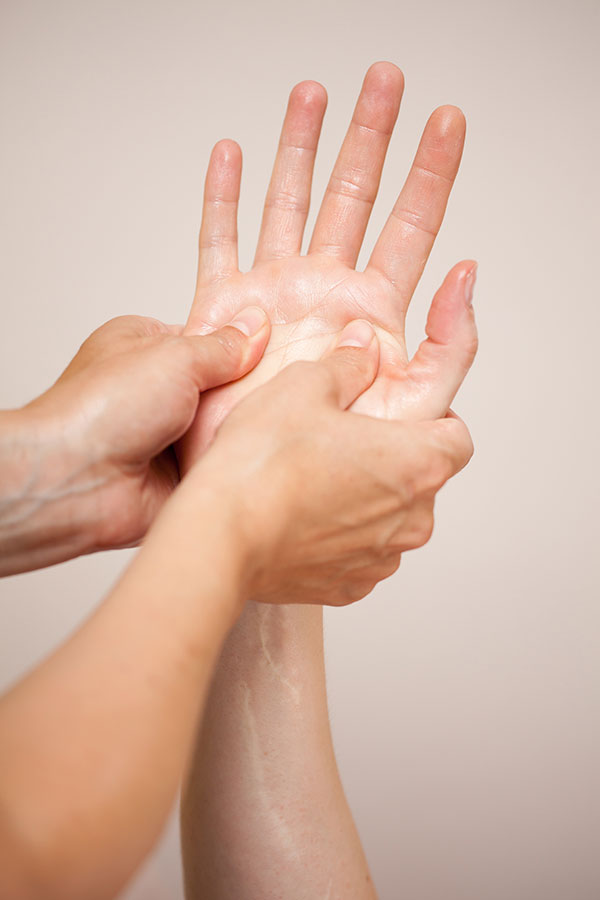 You will find a lot of therapists willing to sit down and chat with you about getting into the field. We all went through this process and understand how hard it can be. And, we are all pretty passionate about it. Be willing to put yourself out there and invite a therapist to coffee. Most therapists will be more than happy to meet with you and give you their advice on breaking into hand therapy.
It Can Seem So Daunting.
Getting into hand therapy is a challenge. It doesn't happen easily for most therapists. It is a combination of hard work, a strong desire to make it happen, and finding that person willing to take a chance on you.
Does all of this seem excessive to you, or does it seem reasonable? Are you willing to read every night for 30-60 minutes? Are you willing to put your self out there and introduce yourself to therapists and network? Are you willing to spend some money on texts and conferences? If not, that's okay. It isn't for everyone. Being a hand therapist is incredibly rewarding and I truly love my job and the switch I made. But make sure it is something you are passionate about. Reading journals or text books every night and spending extra money on traveling to conferences isn't always fun and exciting, but its what's needed to break into the hand therapy world.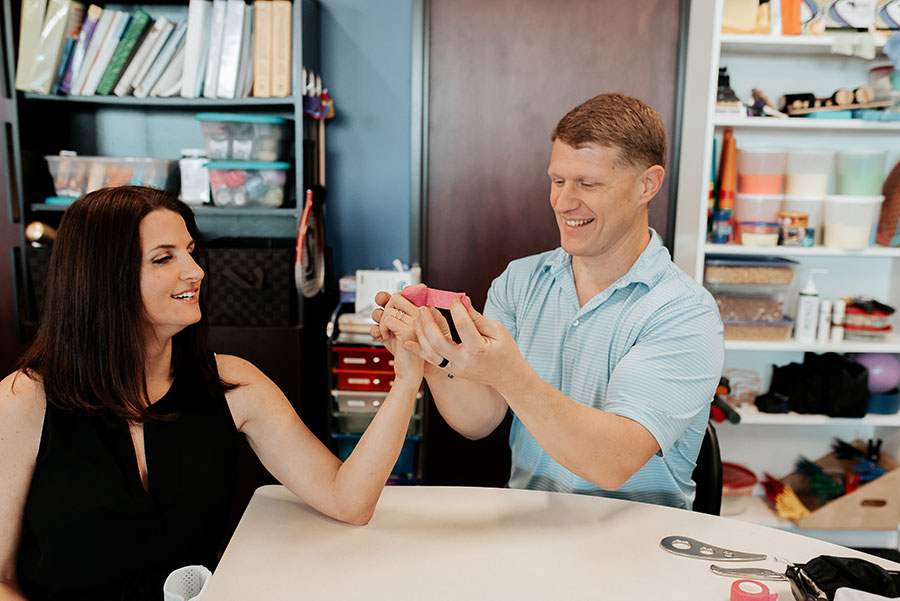 I highly recommend the specialty to anyone motivated and driven to work in this field. Put yourself out there, embrace the challenge and set goals for yourself. Decide if it is right for you, then, if it is, chase it ferociously.

For those of you already in hand therapy, are there any suggestions you would add to this list? For those looking to get into the field, what other questions do you have?
Do you know the difference between EMG and NCV (an Electromyography and a Nerve Conduction Velocity Study? The term nerve test is usually a broad term that typically indicates both an Electromyography (EMG) and a Nerve Conduction Velocity (NCV) study (EMG vs NCV). An EMG looks at the electrical signals your muscle makes when at…
Read More
Sign-up to Get Updates Straight to Your Inbox!
Sign up with us and we will send you regular blog posts on everything hand therapy, notices every time we upload new videos and tutorials, along with handout, protocols, and other useful information.