Teo, S. H., Ng D. C., Wong, Y.K.(2018). Effectiveness of proximal interphalangeal joint blocking orthosis vs metacarpophalangeal joint blocking orthosis in trigger digit: A randomized clinical trial. Journal of Hand Therapy, 1-7.
The Skinny- This study compared PIP joint immobilization via an Oval-8TM with a custom MCP blocking orthosis in the treatment of trigger finger.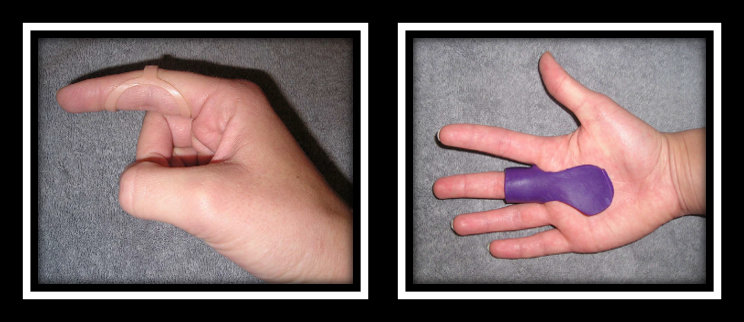 In the Weeds – Patient (n=35) with Trigger Finger (n=43) were analyzed. Twenty-three patients were allocated to the PIP joint splinting group and 20 patients were in the MCP splinting group. Patients wore the orthosis for eight weeks.
Pain reduction was observed in both groups, but pain reduction was greater with PIP joint splinting compared to the MCP joint splinting group (MCP joint splint). There was only significant improvement in QuickDASH for the PIP splinting Group. Patients wore the pip joint splint significantly longer during the day compared to the MCP splinting group (MCP splint), most likely due to improved comfort.
Bringing it Home- Findings suggest both orthoses are effective in reducing QuickDASH scores, reducing pain and improving overall trigger finger symptoms based on Green's Classification. However, the pip joint immobilization splint was better for improved function and improved compliance.
The rationale for the rating. Small sample size. All patients with comorbidities were excluded limiting the generalizability of findings. Immobilizing the PIP joint compared to the MCP allows more function and improved compliance. When immobilizing the MCP you limit intrinsic grasp which is a necessity for function. The authors recommend wearing the orthosis for a 4-week duration of 24 hours in order to reduce triggering symptoms followed by night-time splint wear for another 3-4 weeks.
By Taylor Landholm Chen, Y., Yu, Y., Lin, X., Han, Z., Feng, Z., Hua, X., Chen, D., Xu, X., Zhang, Y., & Wang, G. (2020). Intelligent Rehabilitation Assistance Tools for Distal Radius Fracture: A Systematic Review Based on Literatures and Mobile Application Stores. Computational and Mathematical Methods in Medicine, 2020, 7613569. https://doi-org.methodistlibrary.idm.oclc.org/10.1155/2020/7613569 The Skinny The…
Read More
Sign-up to Get Updates Straight to Your Inbox!
Sign up with us and we will send you regular blog posts on everything hand therapy, notices every time we upload new videos and tutorials, along with handout, protocols, and other useful information.