Barlow, S.J., Scholtz, J. & Medeiros (2020). Wrist weight-bearing tolerance in healthy adults. Journal of Hand Therapy, xxx currently in press.
The Skinny
Wrist pain and instability are common occurrences and can occur with acute or chronic injuries. This leads to significant dysfunction, including the inability to tolerate axial loading through the upper extremity. There is no reported clinical test for hand therapists to measure axial loading from decreased wrist stability. The purpose of this study was to determine normative values for non weight bearing upper extremity.
In the Weeds
465 subjects were enrolled in the study from around the world. Healthy adults ranging in age from 18 to 64 were enrolled in the study. Exclusion criteria included current wrist pain or a history of wrist pain, previous wrist fracture, rheumatoid arthritis, breastfeeding, and/or pregnancy.
For testing, the subjects were in a standing position with the elbow and wrist in extension. They were asked to press down on an analog scale making sure their middle finger pointed toward the 12 o'clock position. This was done a total of three times on both of the upper extremities.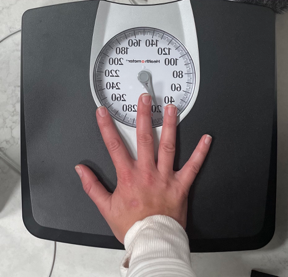 Bringing it Home
This study defines wrist weight-bearing tolerance norms for healthy adults, including males and females in the age range of 18-64. Knowing the weight-bearing norms could help identify wrist pathology and be another objective measure to support various hand therapy interventions (weight well hand therapy).
This study was well done, and there was a large sample size from various locations around the world. One potential conflict was cited in the article
"journal policy and ethical obligation require reporting that one of the authors of this paper (MW) is the patent owner of a company WristWidget. The business may be positively affected by the results reported in this manuscript." (Barlow & et al, 2020).
Overall I really enjoyed reading this article, and I can say that it will impact my clinical practice. Nice job!
If you are going to purchase a scale, I would recommend making sure it has a large area to place the hand without covering the dial or numbers (mine doesn't have enough room to keep my hand on the black area without cover the numbers). Also, make sure it is analog, not digital!
By: Maddie Mott Wound healing (healing hand therapy) involves a complex series of interactions between different cell types, cytokine mediators, and the extracellular matrix with its four basic stages including hemostasis, inflammation, proliferation, and remodeling (Mackay & Miller, 2003). Because successful wound healing requires adequate blood and nutrients to be supplied to the site of…
Read More
Sign-up to Get Updates Straight to Your Inbox!
Sign up with us and we will send you regular blog posts on everything hand therapy, notices every time we upload new videos and tutorials, along with handout, protocols, and other useful information.