Assessing and Improving Grip with the Squegg
By: Megan Prather
"Grip training is made fun"
In hand therapy we are always looking for engaging new interventions to use with patients. The Squegg is a dynamic grip-training tool that can be used with clients both to assess grip strength and to improve strength across sessions. This article is a Squegg review that will hopefully help you understand what Squegg is.
More About the Squegg
The Squegg is a small, lightweight (66g), blue-tooth enabled device designed for grip training and healthy living. The device is waterproof and has a continuous battery life of 80 hours (standby time 160 days) after 2 hours of charging. Squegg comes with an app, available in the App Store and Google Play, to use alongside the device. This app enables you to measure grip strength as well as pinch, intrinsic grip, and opposition and to monitor the number of repetitions on the Squegg each day. The app also guides the user through isometric exercises, repetition exercises, and fun games that help improve grip. The games- Blast Away, Poolside Fun, and Sumo- require the patient to grip the Squegg to move a player up or down or cause other actions in the game. The games also record leaderboards to keep track of progress and add competition. Creators of the Squegg suggest the use of isometric exercises on the app to help maintain healthy blood pressure as well.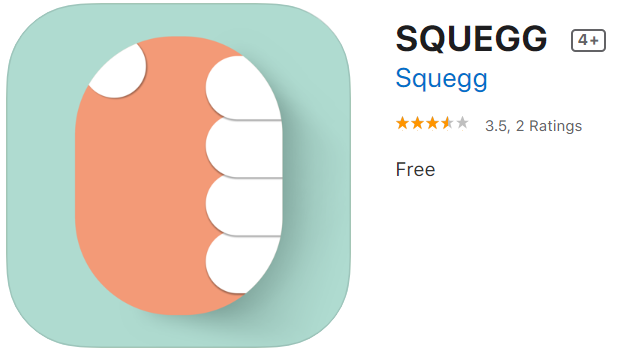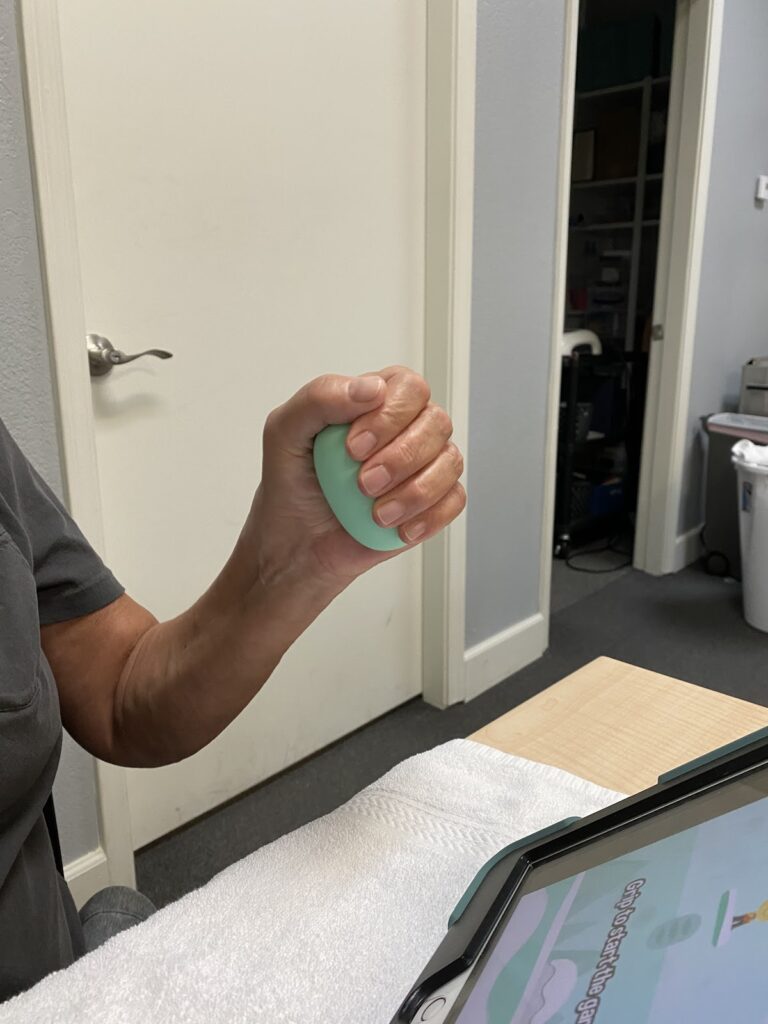 Patient Story
One patient in our clinic has been working to improve grip strength and hand function after surgery. This patient was very eager to try the Squegg as a therapeutic activity when offered in the clinic. As soon as she started playing the game, the patient said "Wow this is fun!" and was very focused on her grip as well as the competition of the game. This activity engaged the patient as she performed repeated grips to move the character up and down on the screen.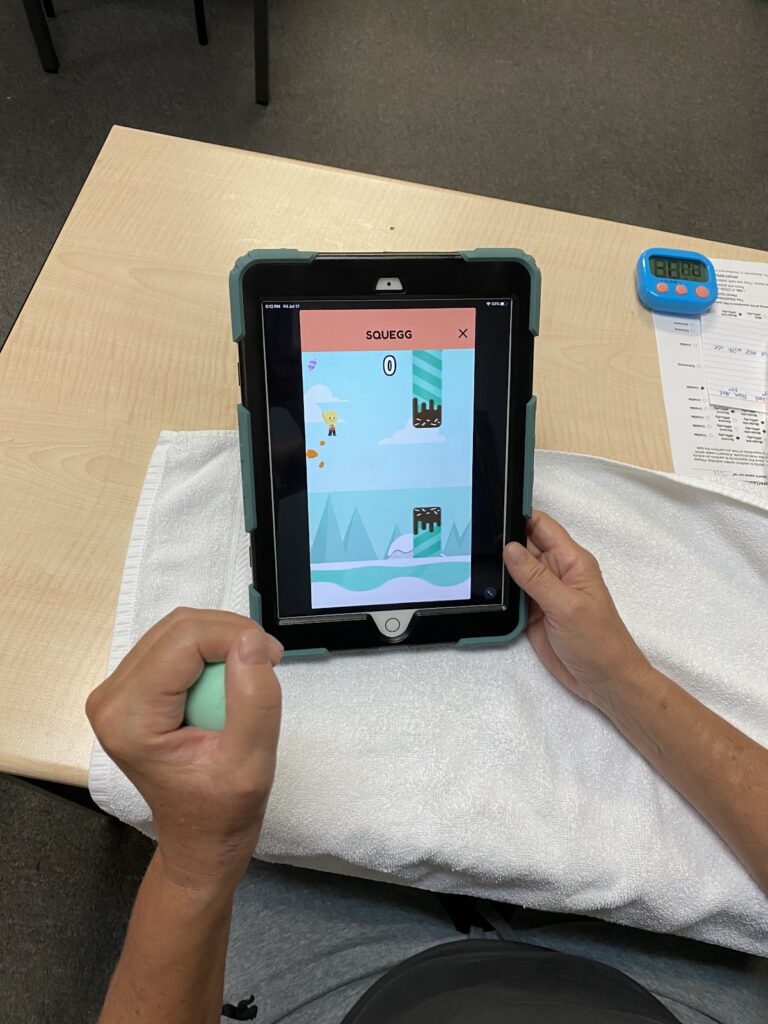 PROs
Fun and engaging activity for the patient
The patient can record their high score and compete against other patients or therapists
Gross grip, pinch grips, lumbrical grip, or opposition can be targeted with the Squegg
Using the Squegg to play Blast Away the patient completes multiple repetitions of gripping
The patient can control how hard they are gripping; a light grip is enough to play the game but a stronger grip can also be used to continue improving strength
The games help the patient not only to work on grip strength but to train the timing and power of their grasp
Patients can buy a Squegg to use as a home exercises
CONs
The Squegg costs $43.99 which may be a limiting factor as a home exercise
Some patients may feel the Squegg is too small for their hand or may not be interested in the games
Without guidance, patients may squeeze too hard on the Squegg if they are not yet cleared to exert their full force
Where to Buy the Squegg
You can purchase the mint or coral Squegg for your clinic or personal use on the Squegg's website.
Use the code Crew15 for 15% off your purchase!
Ways to Improve HEP Compliance in Hand Therapy By: Dalton Busch One of the most important ways we see our patient's progress is by assuring they are compliant with their prescribed home exercise program (HEP). Our patients are always encouraged to adhere to their prescribed program but compliance is easier said than done. Reminding patients…
Read More
Sign-up to Get Updates Straight to Your Inbox!
Sign up with us and we will send you regular blog posts on everything hand therapy, notices every time we upload new videos and tutorials, along with handout, protocols, and other useful information.