Incorporating Emerging Evidence into Clinical Practice for Patients Experiencing Dorsal Wrist Pain During Weight-Bearing Activities
By: Brittany Day
Supporting Evidence
A randomized control study recently published in the Journal of Hand Therapy found rigid carpal stabilizing taping (CST) to significantly increase passive range of motion, active range of motion, and decrease pain in patients experiencing dorsal wrist pain during weight-bearing extension compared to placebo with elastic tape (Kim et al., 2019).
Rationale
Wrist extension takes place at the radiocarpal and midcarpal joint (2 degrees of radiocarpal motion to every 1 degree of midcarpal motion) and occurs as the proximal carpal row rolls dorsally while gliding volarly on the radius which may lead to gapping within the proximal carpal row during end-range movements (Foumani et al., 2009). When weight-bearing in extension, the scaphoid supinates while the lunate pronates effectively spreading the carpal bones further apart limiting extension potential (Kobayashi et al., 1997). The idea behind CST is to restrict the midcarpal joint, scaphoid supination, and lunate pronation to increase wrist extension potential with reduction in pain (Kim et al., 2019).
Who is Right for Carpal Stabilizing Taping?
CST may used for patients with dorsal wrist pain caused by various diagnoses such as:
Distal Radius Physical Stress Injuries
Scaphoid Impaction Syndrome
Dorsal Impingement Syndrome
Wrist Hypomobility without Ligament Instability
CST may not be appropriate for:
Allergies to adhesives
Tenosynovitis
Dorsal Wrist Ganglion Cyst
Scapholunate Injury or Instability
Carpal Tunnel Syndrome
Dorsal impaction hand therapy – How to Apply Tape
Use rigid athletic tape that is 1-2 cm in width.
Use a marker to indicate four bony landmarks on the wrist: Dorsal ridge of scaphoid, listers tubercle, triquetrum, pisiform
Connect the indicated marks with tape circumferentially while patient's hand is resting at 45 degrees of flexion.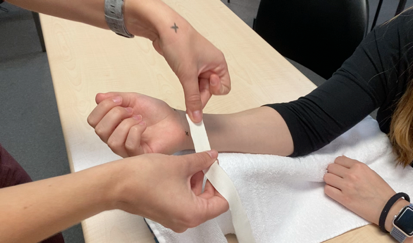 Carpal Stabilizing Taping Intervention Ideas (dorsal wrist impingement exercises)
The following is a list of interventions that may be completed with CST and are a progression from mild to moderate difficulty. Clinical reasoning must be used when progressing patient.
Ball Rolling – Place hand firmly on ball. Roll forward into flexion and back into extension without lifting hand. Complete exercise for 3 minutes.
Tray Balancing – Balance a tray or plate in palm. Hold without dropping for 3 minutes.

Wrist Extension with PowerWeb – Hold PowerWeb in lap or on a table. Press wrist into extension. Hold 10 seconds and repeat 10 times.

Wall Slides with Towel – Begin with towel in hand resting on wall. Shoulder should be flexed over 90 degrees. Slowly lower arm to increase demand on wrist extension. Sustain stretch for ten seconds just before the point of pain is reached. Repeat 10 times.

Wall Push-Ups– Place hands on wall with shoulders at 90 degrees and elbows extended. Complete 3 sets of 10 push-ups on the wall.
References:
Foumani, M., Strackee, S.D., Jonges, R., Blankevoort, L., Zwinderman, A.H., Carelsen, B., & Streekstra, G.J. (2009). In-vivo three-dimensional carpal bone kinematics during flexion–extension and radio–ulnar deviation of the wrist: Dynamic motion versus step-wise static wrist positions. Journal of Biomechanics, 42(16), 2664-2671.
Kim, G., Weon, J., Kim, M., Koh, E., & Jung, D. (2019). Effect of weight-bearing wrist movement with carpal-stabilizing taping on pain and range of motion in subjects with dorsal wrist pain: A randomized controlled trial. Journal of Hand Therapy, 33(1), 25-33.
Kobayashi, M., Berger, R., Nagy, L., Linscheid, R., Uchiyama, S., Ritt, M., & An, K. (1997). Normal kinematics of carpal bones: A three-dimensional analysis of carpal bone motion relative to the radius. Journal of Biomechanics, 30(8), 787-793.
Hand therapy can and should be very occupation-based. Every week, we hear comments from patients that back that statement up: "I need to get back to work" "I just want to golf again" "I can't even open a water bottle" "My spouse has to do all of the cooking" Although standard exercises are helpful, it's…
Read More
Sign-up to Get Updates Straight to Your Inbox!
Sign up with us and we will send you regular blog posts on everything hand therapy, notices every time we upload new videos and tutorials, along with handout, protocols, and other useful information.