Mirror therapy has many implications for therapy and can be used to treat many diagnoses that commonly involve the upper extremity. These include some of the Neuro Conditions we highlighted last week including, Stroke and Focal Hand Dystonia. Btw, you can download a mirror therapy exercises pdf here for free.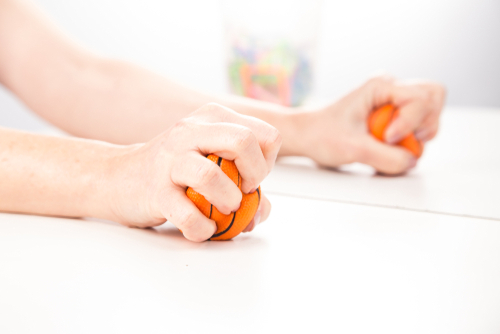 How long should the patient perform mirror therapy exercises? Should there be a sequence of routines prior to performing mirror therapy? There is no simple answer and a wide range of dosing information along with frequency and duration for performing mirror box therapy.
Despite the variety in rehab regimes for mirror therapy, the majority of them have demonstrated positive effects. From the studies, a general protocol was developed know as the St. Gallen MT Protocol. The St. Gallen MT Protocol was tested on 52 patients. Of those, 42 out of 52 patients showed a reduction in pain, improved function, and no phantom sensations.
Here are some key highlights from the studies and the St. Gallen MT Protocol.
Keys to using mirror therapy in treatment
Explain clearly how mirror therapy works, the patient must have the buy-in
Perform mirror therapy in a quiet environment
Set up a home program using mirror therapy (mirror therapy boxes) can be made out of cardboard boxes by gluing a handheld mirror on the side or you can fabricate a wooden one for under $15 (see below video below).
Utilize a patient log for tracking mirror therapy exercises.
Review patient log at follow-up therapy visits
Duration
Home Program must be performed 5-6x/day,
Each session should be no longer than 5-10 minutes
Adapt exercise based on diagnosis
Grunert-Pluss, N., Hugschmid, U., & Santschi, L. (2008). Mirror therapy in hand rehabilitation: A review of the literature, the st gallen protocol for mirror therapy and evaluation of a case series of 52 patients, 13, 1, 4-11.
Supply list for making a mirror box (mirror therapy handout)
https://www.handtherapyacademy.com/wp-content/uploads/2019/06/mirror-box-material-list-.pdf
Video on how to make a mirror box
Blog By: Rachel Reed As hand therapists, our care for our patients must be driven by the goal of treating the whole person, not just their hand or injury (Hannah, 2011). Occupational therapy is a unique profession in which we are equipped to view our patients through a holistic lens. With this lens, we are…
Read More
Sign-up to Get Updates Straight to Your Inbox!
Sign up with us and we will send you regular blog posts on everything hand therapy, notices every time we upload new videos and tutorials, along with handout, protocols, and other useful information.